Man am I Excited!  I am not sure I can even begin to tell you but I am going to try my best.  So a couple of weeks ago my husband Ben and I attended a Pro event for The Knot. During one of his trips around the room he ran into a gentleman and immediately struck up a conversation, because that is what you do at networking events.  The guy's name was Damien and he was from Generation Tux, an online Tux and Suit rental company.  Now I know what you are thinking, Online? Seriously?  Yes I could not be more serious.
Anyhoo, for those of you that have experienced conversation and sales with my husband he can be bit of a skeptic and is not easily "sold" on ideas especially newer ones.  Well this guy Damien SOLD  my husband on Generation Tux.  Let me tell you why…
First of all the company was founded by George Zimmer, I'll just leave that right there. So of course everything is done online, which means no driving to the store to get measured then driving back to pick up the tux THEN driving the day after your event to drop it off.  Not to mention getting everyone together to make all of that stuff happen. The couple creates the Event online and selects the attire for everyone to wear. They, Generation Tux, sends you a tailor's tape (YES they send one to you, For FREE) so that your significant other, family member or friend can measure you.  You put the sizes into the event page under your name and check out.  Simple.  Free shipping as long as your rent a tux or suit.  YES FREE!  Need a swatch to verify colors, they will send that to you as well, FOR FREE!  If your suit or tux is damaged during rental they will evaluate the damage and fix the issue if they can, no damage waiver fee is due, and no charge if it can be fixed.
So back to the question of "Will it fit me right?"
Your rental will arrive 7 days prior to your event for you to try on and determine the fit.  If you need an adjustment simply contact your concierge and they will determine what needs to fixed and send you a replacement.  If you need a simple hem taken up they will send you to a tailor and GIVE YOU $20 towards alterations for hemming.
You where your suit or tux, now what? Your rental must be dropped off to specified carrier 3 days after your event.  That means you CAN have an after party (or your groomsmen can anyway) and not have to worry about driving to the rental location to drop of the garments at a certain time.  Just stop by your local USPS or FedEx location, they send a prepaid shipping label and bag to place items in.  OH and they clean the items as well, Eco-friendly.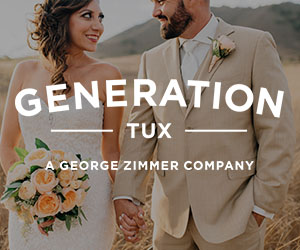 Pretty awesome right?
They have 70 pre-styled looks that you can select from.  All pants and shirts are designed with what they call "flex fit" and all shirts are breathable cotton to keep you cool.  Do they have attire for the small ones in my party?  Yes they do.  Their sizes range from 3T to 66XL.
Click one of the images above to learn more about this amazing company and idea or visit our website to get more information.